
Free Shipping On Orders $29+

Free Shipping On Orders $29+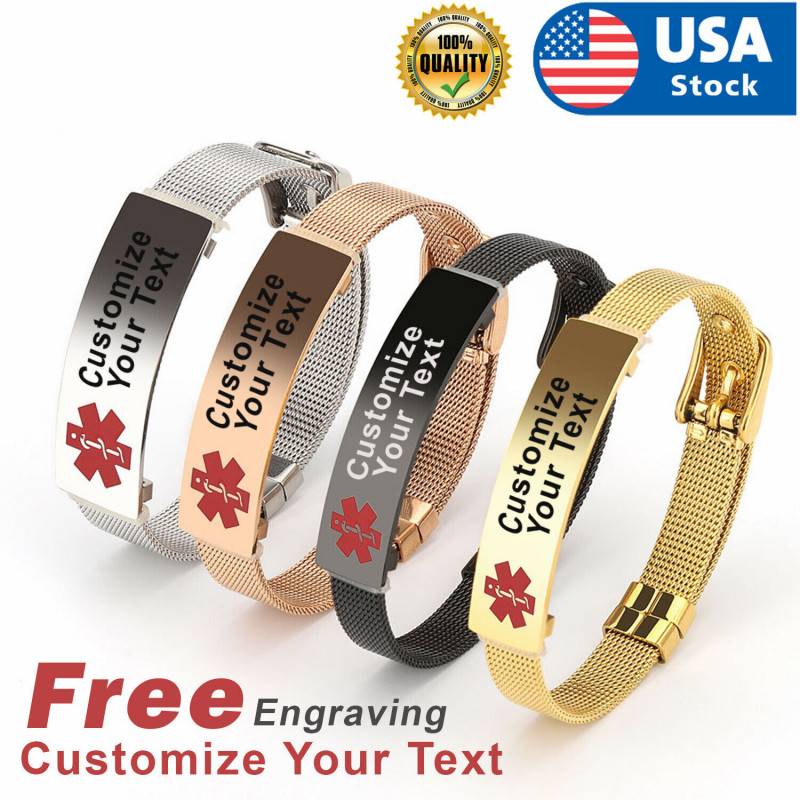 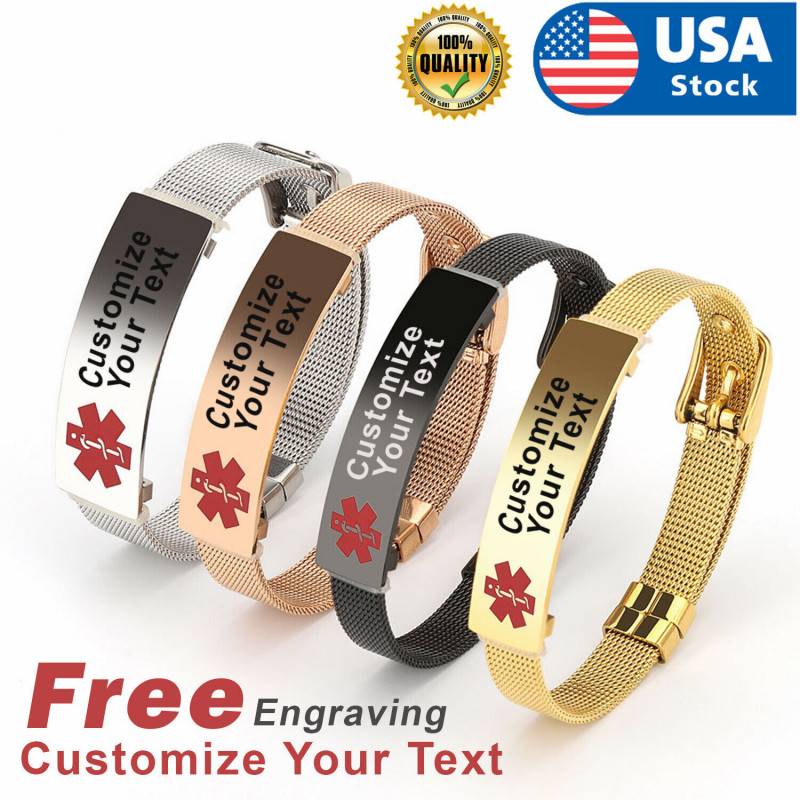 
In Stock
Stainless Steel Medical Alert ID Bracelet FREE ENGRAVING Men Women Fit 7-8.5"
• No sales tax out of California
• Ship from California
• Return policy:30 days returns
• Delivered In 3-5 business days
LINE 1 Pulmonary Embolism LINE 2 Blood Thinners--Xarelto. LINE 4 Blood Thinners--Xarelto. Material: Stainless Steel + Silicone. Personalization -We only can engrave 3 to 4 lines of text (18 Characters Max. ).
Privacy policy

Delivery policy

30 Days Return
Category:Jewelry & Watches|Fashion Jewelry|Bracelets & Charms
 PLEASE  !! IF YOU ORDER A CUSTOM ITEM  FROM US !!!!!
SEND US THE INFO RIGHT AWAY ! IF WE REACH OUT ITS BECAUSE WE STILL HAVE YOUR ORDER  AND GOT NO INFO!  INFO MIGHT NOT ALWAYS BE SUCCESSFUL ON THE NOTE TO SELLER BOX
!!!!!!
We check our message Monday - 
Friday
We offer free laser engraving. 
Common reasons for wearing a Medical Identification Bracelets :
- (1) Physical Allergies including Insect Bites, Pollens, Food Types
- (2) Physical Conditions including Heart Conditions, Seizures, RNY Gastric Bypass, Asthma
- (3) Medical Allergies including Medicines, Latex, Chemical
- (4) Medical Conditions including Diabetes, ITP, Autism, Alzheimers.
Personalization   - 
We only can engrave 3 to 4 lines of text (18 Characters Max. in each line) No color text ! 
Please see template below
LINE 1 Pulmonary Embolism LINE 2
Blood Thinners--Xarelto
LINE 3
Pulmonary Embolism
LINE 4 Blood Thinners--Xarelto
 Please enter the information in the note to seller box at checkout or send us a message.
100% Brand New and High Quality
It is a good gift for your lover, family,friend and coworkers
Make you charming and elegant
Life-saving when in case of emergency
Color: Black
Material: Stainless Steel + Silicone
Length: 16-21 cm(adjustable)
Package Included: Bracelet*1 pc 
About this item
Material: 316L Stainless Steel O Chain,Never Rust,Sturdy and Durable,High Quality,Item Size:Width 12MM,Length (8.5 inches)
PEOPLE WITH THE FOLLOWING CONDITIONS SHOULD WEAR A MEDICAL ID JEWELRY:Alzheimer's,Autism/Special Needs Children,Blood Disorders,Blood Thinners,Diabetes,Dementia,Drug Allergies (i.e. Penicillin, morphine, sulfa),Emphysema/Breathing Disorders,Epilepsy/Seizures,Food Allergies,Hearing,vision, or mentally impaired,Heart Disease,Insect Allergies,Kidney Disease,Pulmonary Conditions,Sickle Cell Anemia,Surgery, transplant,cancer patients...
WE RECOMMEND YOU ENGRAVE:Medications that you are taking or are allergic to;Allergies: Including, but not limited to Drug, Food, & Insect allergies;ICE: (In case of emergency phone number) This allows a family member or friend to be contacted in case you are in an emergency;Your name, this helps first responders communicate with you in case of an emergenc
No returns or exchanges
But please contact me if you have any problems with your order.
125338910483|426361397650
Product Reviews / Q&A
Reviews (0)

All reviews (0)
Has image/video (0)
Excellent (0)
Good (0)
Medium (0)
Poor (0)
Terrible (0)

Latest
Oldest
High rating
Low rating
Helpful